Optimal drainage with concealed concrete gutters

The clever concealed gutters
Series 3: Concrete intermediate bridge, steel frame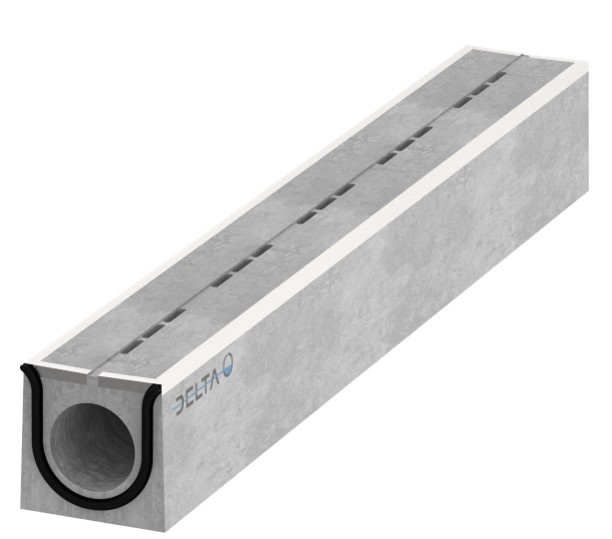 Hidden gutter features:
Smart pressure seal: standard EPDM seal (option NBR)
Settlements allowed
Frost and de-icing salt resistant
Suitable for a high static load
Liquid proof
To be installed without permanent formwork and therefore self-supporting (type I), in accordance with EN1433
High chemical resistance
with concrete intermediate bridge and steel frame (Series 3)
Available in standard lengths of 2, 2.5 or 4 m, which guarantees quick installation. The advantage of this is that less manpower can be used to work more effectively, faster and thus cost-effectively. (custom made is also possible)
Suitable for load class D, 400KN, E, 600KN and F, 900KN
Applicable in various areas
The KOMO approved gutters from Diederen Afwateringstechniek are suitable for use in all kinds of conceivable areas. This makes it ideal for use in port areas, industrial areas and petrol stations. In addition, the gutters are also excellent for use in tunnels, runways and loading pits. Placing a concealed gutter or several gutters immediately makes the situation on site a lot safer.
Application areas:
Industrial areas
Container terminals
Loading pits
Petrol stations
Parking lots
Port areas
Tunnels
Airports
Shopping areas
Always available directly from stock
After finding the right concealed gutter or concealed concrete gutters, these can almost always be delivered quickly from our own stock. Collection of the ordered concrete channel material is of course also possible. The specialized Diederen Afwateringstechniek team is always available for questions and for more information. Requesting a suitable quote via our website is very easy. The quotation is delivered within 1 to 2 days and provides a clear overview of the prices for the chosen option.